OPERATIONAL
From a civil air traffic point of view the main operational task of Ulster Radar was the control of aircraft entering or leaving Shanwick's airspace via the northern part of the UK. This included not only UK arriving and departing aircraft but also Oceaic traffic to and from Europe, parts of the former CIS and even the Middle East later in its history when aircraft ranges became longer. It was Ulster's responsibility to ensure that aircraft entering Oceanic airspace were at their assigned flight level for the Oceanic crossing and adhered to any restrictions regarding speed or time crossing the Oceanic boundary.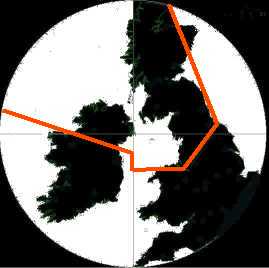 The operational radar coverage and area of responsibility included most of Scotland and the northern part of Ireland. Basicly and area bounded by 55 to 57 degrees North 10 degrees West to Benbecula & Stornaway in the North, Talla / St. Abbs and Deans Cross to the East and Wallasey / Pole Hill, Liffey and Lough Erne in the South.
The civil end of the unit was equiped with two radar consols with the ops board in between. Usually only one radar and one assistant position was manned except at busy times when both radar positions were manned along with a second assistant position.The ops board was maintained and updated by Air Traffic Control Assistants as aircraft passed through the area and checked in at the various reporting points.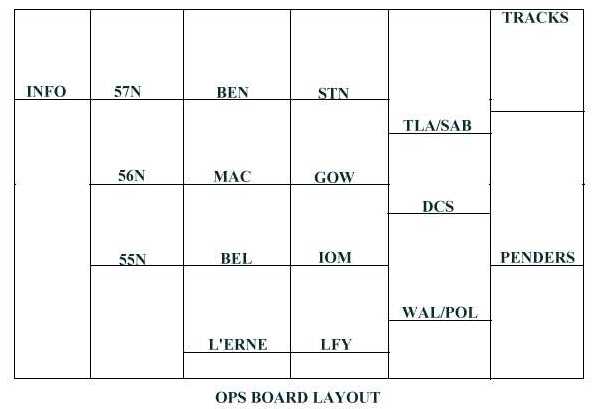 Acknowledgement:
Thanks go to Alex Wiecek VE3GOP for the use of the radar image from his WWSU programme which was used as basis for the radar coverage image on this page.
---
Navigation
Front page; About Ulster Radar; Radar; Operational; Coms; Closure; History; More History; Photos; Links